Sunday, October 15th, 2006
---
10/15/06 @ 1:37 am
- Sponsor Kenzie
Hey everyone Mackenzie is doing a walk on November 4th for Childrens Hospital and she is walking for the cause of spinabifda it would be so great if you could even sponsor her for $5 or $10 every little bit helps. She has been on me to send out her email to you all, shes growing to fast. Already commanding me to send out her emails i guess i better get practice for when i am her secretary and she is the presidnet of the US someday, Heres her link and we would be ever so greatful if you would sponsor her =) Thanks Love Kenzie and family
Thursday, September 28th, 2006
---
09/28/06 @ 2:54 am
- Overdue Picture post
09/28/06 @ 2:53 am
Olivia isnt such a lil baby anymore shes 5 months now. Mackenzie is
adapting well to kindergarten and its such a releif on me that the
school board pays for a nurse to be there and cath her when she
needs it, all of the kids are nice to her and most even will hol
dher hand in the hallways and kind of brace her so she has better
support, she can make it without it but it makes me feel all warm
and fuzzy that the innocence in the world still shows in the deeds
lil kids do. I had my first girlscout meeting for the parents and i
did okay, besides for the fact that all of the moms were like old
enough to be mom i think i did okay. My gma went with us to be there
for my moral support she always has been there through drillteam and
cheerleading highschool mommy hood and now being a daisy leader lol,
noone could beleive that she was my gma they all fraked out
lol.Olivia has started rolling persistantly she is getting to be so
cute and active the newborn stage is sweet but its so fun when they
get there personalitys. Onto Caitlyn well she is loving ballet and
tap class she walked out the other day like she was all big and
proud with her dance bookbag on and said mommy i wanna go again it
was too cute. Ill end it here to not make you all too bored hope all
is well and i hope i can update more often i do sneak and read blogs
everynight :)
Thursday, September 7th, 2006
---
09/07/06 @ 8:06 am
Its been a long time coming so heres a post about the recent developments in my life. Mackenzie has started kindergarten and is so far loving it a few kids have asked her about her differences as in the way she walks a lil different than them and she said that GOD made her special and that when she was born she had surgery to help fix what was wrong, i think it bothers me more than her i guess im just in a position of feeling like a protective mama bear.

I signed Mackenzie up for girlscouts lastnight well really DAISYS and guess what they didnt have a leader and the recent daisy leader like graduated with her girls to brownies so she had both on her own so i said i would be the leader leader and i am in one way absolutly excited but in antoher way terrified bc i have to make up the meetings and ideas and hope that the I keep up the great reputation for girl scouts i will do fine i am just feeling a tad unsure of myself lol.

SInce kenzie is in DAISYs and horseback riding i am placing caitlyn in ballet and tap for preschoolers she should love it i think and it will give her something to be proud of and give her some independance, the only thing is i can see caitlyn as like a girl in a ballet tutu catching footballs lol, shes so girly yet tomboy at the same time.

Olivia well she playing more with her toys she is now 4 1/2 months old and has started rolling and cooing last night we caught her beating up poohbear in her playpen bassinet, i guess he said somethin that got her mad lol.
Thursday, July 20th, 2006
---
07/20/06 @ 2:43 am
im going to indianapolis for a few days with my gma and the girls we are staying at my gmas sisters house and my cousin/kenzie god mama lives there too. For those of you that knew about olivias heart murmur we went today and to make a long story short she is fine and her murmur is innocent so i have a ton of stress of my shoulders enough so that when i come back ill be doing alot of posting i was in such a slump of worry before her cardiologist appointment i was alomost afraid to be happy about anything she was doing bc i was so scared something was wrong, but ill talk to you all when i get back fridya night huggs i miss ya all
Saturday, July 8th, 2006
---
07/08/06 @ 2:28 am
ok well ill do a picture update tommorow but i thought since alot of people havent heard from me in a bit that i might as well give a quick update while i dont have a baby in my arms or have 2 little spoiled princesses at my feet. Anyways all are good in the feltner household,

Olivia is growing really fast, last time i took her to the doc he said he heard a heart murmur and just for precaution that he was gonna send me to a cardiologist and he about scared the living crap outta me but i guess its pretty common and most usually is an innocent murmur that wont have a damper on anything for her i hope all is okay i go on JULY 19 for the consultation so ill keep everyone posted. Olivia also love to have kenzie and caitlyn time if i am holding her usually around noon she will start squirming like she doesnt wanna be held and i have to walk away and kenzie and cait play with her and get her to sleep, now this kinda offends me but oh well i guess its a mini break for me, i think she knows that they are little people and likes that. SHe is cooing now and smiles alot when you talk to her( look for pics tommorow)

Mackenzie starts kindergarten in august i am kinda nervous bc she is still workin on her balance, she got a really cool toy/ theraphy thing its one of those bounce castles that you see at carnivals but its just smaller just the perefect size for kenzie and caitlyn althought we have to kick caitlyn out when kenzie is trying to "practice" her balance. kenzie is getting fiestier everyday and is coming into her own opinion boy if this is the preview of the future am i in for it.

Caitlyn well she is just caitlyn always getting into something and then being a total doll baby and melting our heart so we dont yell at her, now when she doesnt want to do something she says "nevermind im running away" i asker her where she was gonna run to today and she said to get icecream and i asked when her money was and she said "i call daddy for money" it was classic.

My life has been pretty typical these past few months although i have a new addition its about the same as before just a lil less sleep, it always seems like i sleep better when traivis is off and i know hes awake with the kids i sleep like a log then but just in your typical night i feel like i have to be a mama OWL and stay up to make sure everything is going well with my whole crew, and then when i do get to sleeping somewhat well its time to get up and tend to Olivia the neverending task of motherhood.
Monday, June 19th, 2006
---
06/19/06 @ 1:17 am
Thursday, June 15th, 2006
---
06/15/06 @ 1:59 am
Wednesday, June 14th, 2006
---
06/14/06 @ 2:29 am
Tuesday, June 6th, 2006
---
06/06/06 @ 7:33 pm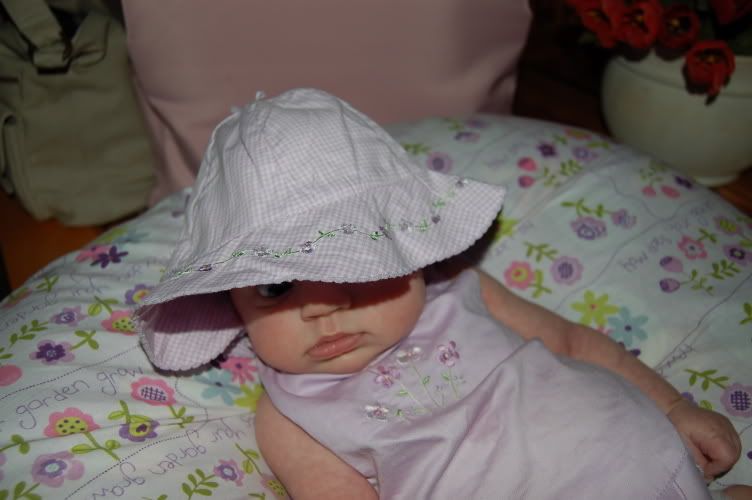 Mom this hat is tooo big for my head!!!!!!!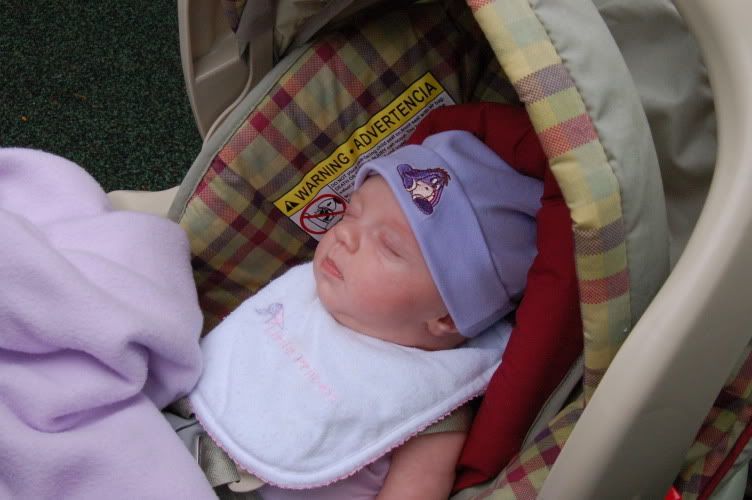 My First Zoo Trip sleeping through it.......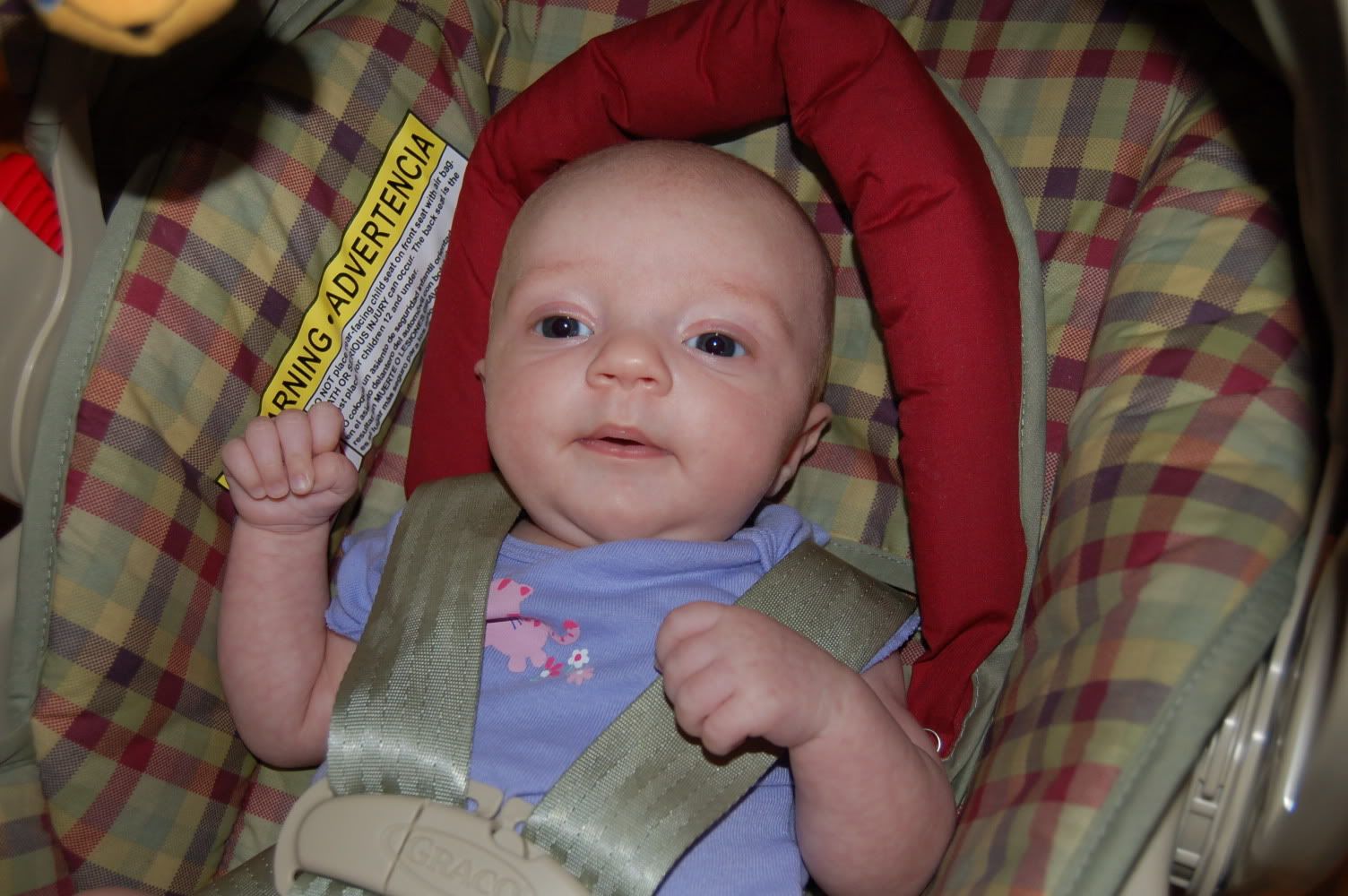 Imma ready to go.....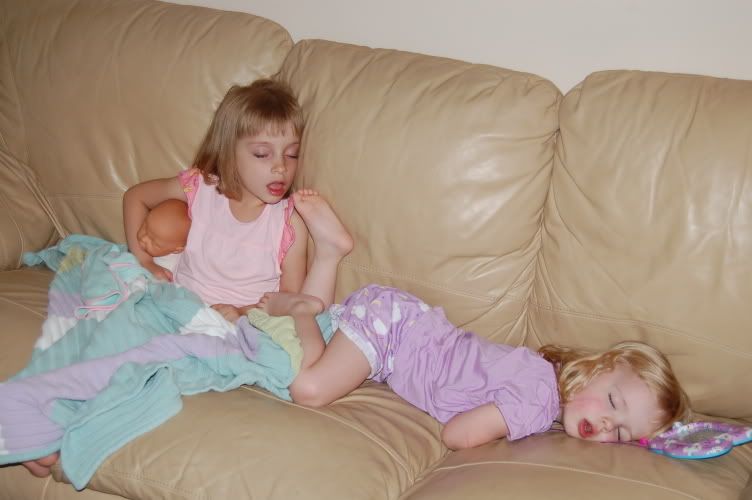 Olivia wore the girls out so much that they just fell asleep like this, doesnt
it look like Mackenzie is about to eat caitlyns foot.

First of all sorry aout the magor picture post without a cut, hopefully i learn how to make a cut next time so my kids mugs dont take up your whole friends page. Anyways I havent updated in awhile so i might as well spill my feelings of happiness, complete exhaustion and sometimes total frustation on here. Yesterday i had my first mommy meltdown since i have been a mama to the ill call it godess trilogy (i stole that from celebrity babys.com Woody harrelson has 3 daughters and he calls them that) All at once every kid was crying about something, Olivia was wet and i was about to fix her a bottle, caitlyn was yelling mommy i done on the potty and mackenzie needed to be cathed which takes two almost sterliy clean hands to accomplish, i was pulled in way to many directions and i just broke down, thank goodness my gma lives next door because i called her to come over and help me out. I got all of my issues solved but there for about 5 minuites which seemed like 5 hours i felt so defeated and i just wanted to throw the towel in and give up. I think i have the baby spoiled already or maybe its me thats spoiled to her but its like i am always holding her or carrying her around in the sling, i guess they are only small once but i do want her to have her own independance and be willing to go to others, my kids have always had reputation to be very kind to everyone they meet and i dont plan on ruing that with this lil sweetie.

I have read everyones blogs but just dont have time to respond, it seems like we all are going our separate ways and it saddens me some but i guess things change and life carrys on. I will be going to indianapolis in july for a week my cousin ( Mackenzies godmommy) is going to be teaching her own class in vacation bible school and wants mackenzie and caitlyn to be in her class so ill be away from home with 3 kids and my gma with no travis to help me at night for 5 days, but my cousins are super excellant at helping me out so im not tooo scaired just a lil jelous that travis gets no kids time..

Mackenzie is all go for kindergarten starting in august so ill keep you all posted on her getting ready and stuff as the date gets closer. well i guess thats all for now i have alot more pictures to share but ill link it and post it laters.


06/06/06 @ 6:36 pm
- Olivias almost 7 weeks old!!!!!!!!!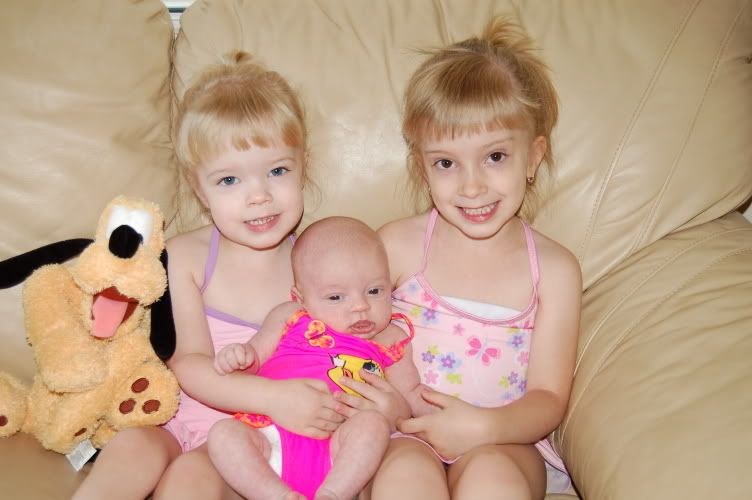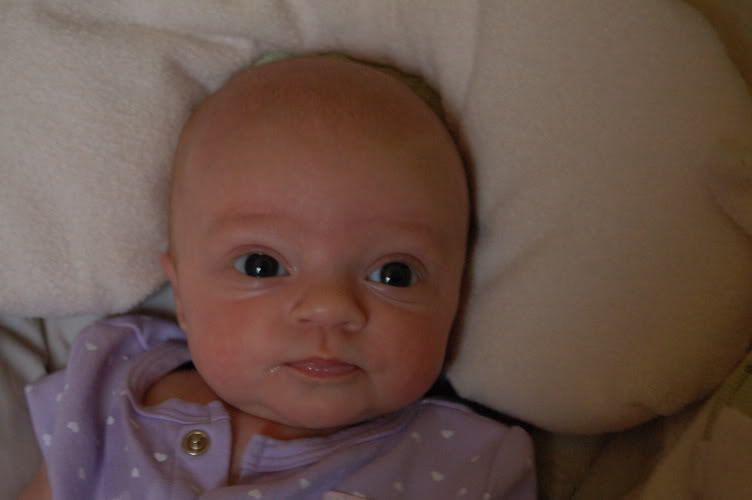 Wednesday, May 24th, 2006
---
05/24/06 @ 5:46 pm
Ok i havent updated in forever so heres what sbeen going on in my life of being a mama of 3. Mackenzie graduates preschool friday night and she is so excited i will make sure to post pics as soon as possible. I am photo shooting a wedding for my cousin well our dad are best friends and we have been raised cousins ever since we were born on saturday and its my first offical wedding. Not that i am worried at all because i am the pne that does all the posing for the weddings that travis take pics at, but shooting and posing should be fun :) Courtney my best friend is going with me for moral support and to help me out!!!

olivia is getting so big so fast she is my lil dolly and i almost dont even mind staying up with her, i love how shes so cuddly and i must kiss the poor thing atleast a gazillion times a day. she goes to the doctor for her one month checkup friday morning along with caitlyn its kinda nice they have appointments the same day at the same time so i will let all know what her weight is and how long shes grown.

I really have read everyones post and i mean to comment but as soon as i get my thoughts togeather olivia needs attenchin again and i alway think ok i can do it later and can never get back to it. The people posts i am talking about mainly are traceys tams and renee i have read them all :)...

The doctor put me on the nuva ring the last time i went in and i thought it was gonna be awesome but yesterday i started having a midcycle period what the heck i know that can happen but still i thought birth control meant no bleeding in between, even thought the bookless says on rare occasion that it can happen... why me to be the rare occasion!!!!!!!!

I went to see the da vinci code last week and my gma was a very brave person and watched all 3 girls so me and trav could have a night off. it was actually pretty good and it was like a history mystery so it was interesting while you were getting an opinionated history lesson too.

We have caterpillars out the butt here and with the huge tree in my backyard i guess they like fall from it bc when i came inside i felt something furry climbing up my neck and sure enough it was a hundred legged furry friend, even thought i knew what it was and im not scared of them it still made me kinda freaked out........ well thats all for now the call of the baby is requesting my presence.
Tuesday, May 9th, 2006
---
05/09/06 @ 1:41 pm
- Answer to the question
Before i had this lil one people asked me what i thought it would be like having three. I said oh probably not any different that having two. But lemme tell you now that the hubby has went back to work and i am able to do stuff for myself again it is interesting, im not going to say it is hard because having babies and raising them should be a "joy with challenges" because after all i chose it for myself and i get to live with it. The baby is a really good baby its my middle child thats the one keeping me ran ragged, she has to sleep with me and wants to always touch the baby or "help" me with her and it makes my job 18 times harder than it needs to be but ohwell the joys of mommyhood eah?? I am already out and about doing the things i did normally, i am one that cannot stand to be at home to much or i go stir crazy. The baby tends to sleep in the car the best and whenever we have taken her out its like shes not even there becuase she slept the whole time. I am breastfeeding and bottle feeding so it going well so far, i find out how much she weighs in about 2 weeks at her 1 month checkup and she has to get her first shot :( which i feel horrible about, i wish i could take them for her, the same day we have caitlyns 3 year old well checkup scheduled but thank the lord that she needs no shots this year so atleast i wont have 2 screaming babys. I have recovered remarkably well after this last csection i only took my pain pills for 3 days after i got home, i have never taken any kinds of drugs besides the one the hospital gave me while i was having babies so when i do get them i get really affected by them and i hate not having that control over what i am doing,plus travis said i was talking about some pretty weird things like kitty kats dancing on ballons and stuff lol so i thought i better stop before i said something i was supposed too :P.

Mackenzie graduates preschool in 2 weeks and she acting like its a high school graduation, shes getting picky too i was just gonn ahve a lil family cookout and mackenzie has everyone thinking its ahuge thing. She even invited the cashier at the grocery store to it, thank goodness the woman playeed along and said she had something to do that day. What the heck do you do in that kinda situation. Thursday Mackenzie has invited me to a "Teaparty With Mom" party at school and she has a surprise she says that i cant know about until then, I am guessing its something she made which makes me super excited bc i love things made from the heart the best.

While Travis was off we didnt argue once. Thats like a world record for us, he even got upset when he had to go back to work bc he was gonna miss us (most of all the baby) so much, he was great with the other 2 kids when they were born but with this one hes over the top helping me which is a total help to me.

ALot of people say they dont know how they could love another baby as much as there other two, but i wanted this lil one so bad i was in love with her as soon as i found out i was preggy it sound repedative but it really does seem like shes been a part of our family forever and shes only 2 weeks and 6 days old!!! Her official due date would of been tommorow but she will be a month old when shes only supposed to be a week, shes so small to be making big decisions like coming out that early isnt she :P Well shes a screaming for me so ill continue my forever update later
05/09/06 @ 1:03 pm
- A Few pics
Monday, April 24th, 2006
---
04/24/06 @ 12:47 pm
- olivias webnursery page
Sunday, April 23rd, 2006
---
04/23/06 @ 12:15 am
- SHes here
At 37 weeks to be exact Olivia Lynn-Violet Feltner was born on Wendsday April 19th at 6:43pm and she weighed 6lbs 12oz and was 19 1/2 inches long...

http://pg.photos.yahoo.com/ph/princessfoundherfrog/album?.dir=69e8re2&.src=ph&store=&prodid=&.done=http%3a//photos.yahoo.com/ph//my_photos

Sorry i havent shown pics yet i am really sore from the csection and am giving breastfeeding a shot and hopefully with this baby it works.
I went into the hospital on monday night thinking i was having contractions, well i was 36 weeks and 5 days at that point in time, so the doctors check me out tell me its braxton hicks and to go home. Tuesday i had a biophysical profile sceduled so i went in did the non stress test and she passed that fine i went and go the rest of the test done and they saw her fluid was really low a (6.5) so they tell me that i have to spend the night tuesday and get iv fluids and retest the next day, i get the girls togeather at home and send them to my gmas and me and trav head to the hossy, i get the fluids and the next day they retest the levels and they had only gone up to (6.9) so the lab tech says well i think your getting a baby today and i go back to my room and wait. An hour later i find out that my baby is due to come into the world at 5:30 later that day (wendsday).I finally get back to the OR at around 5:45 and the anestesiologist(spelled totally wrong) did i shitty job getting the spinal in and it took like 20 minuites but when he did get it in i was totally numb from my upper stomache and when she came out she was immediatly crying which made me feel extra assured that the low fluid hadnt affected her. I got to go home Friday around noon and we have been juggling 3 kids since, it isnt as hard as i imagined and she has so far seemed to fit into our lil family perfectly.. More to come as time unfolds :P
Sunday, April 9th, 2006
---
04/09/06 @ 12:00 am
- Baby Baby
Way excited i go the girls room clean and i mean like really clean and organized now if i can just keep it that way i can relax , im the type of preggy person that has to have myhouse clean before i go in or i am antsy the whole time!!!!!!!!! EEACK
http://pg.photos.yahoo.com/ph/princessfoundherfrog/album?.dir=/1c59

Tommorow is my baby shower and for some reason i am really nervous!!!! I always get this way this far in my pregnancy where i am like afriad to be around large groups of people even if they are showering me well the baby with cool stuff. I honestly dont think i am gonn last another 4 weeks ( 3 week planned csection) and the thing is im kinda sad this pregnancy is almost over i kinda like having her in there and feeling her moving around I think ill miss that when she comes out.

This morning we took the girls to the big sister class at the hospital and kenzie was an angel as usual and caitlyn for the life of her couldnt stay controlled, first she attempted to take the model babydoll away from the instructor and said she needed a new diapey then she insisted on standing in front of everyone watching the video we had to move her outta the way like a trillion times, we did go upstairs to look at the babies in the nursery and caitlyn swore that the baby girl we saw was the baby "cupcake" or "O" as she calls her and thought we were bringing her home and i said no we cant take that baby but that the baby was coming soon.

I just keep thinking if i can get to Easter i will be 3 days away from the 37 week mark and i can feel pretty sure that the babys lungs will be developed , i mean im not gonna try and go into labor(im not supposed to) i just wanna make sure shes done and ready for this world. I keep having a fear that she might come out a boy i doubt it but when you have a ton of pink its a thought that you have although Julie looked at my one ultrasound and assured me that she saw girly parts too. Hopefully me and Julie can get togeather after this baby is born i am way overdue for some Korbyn cuddling and i am sure that Hayden has a hug and maybe a kiss for his girlfriend Kenzie....

Ill end this here and ill have pics of the shower or atleast a link up tommorow.


Friday, April 7th, 2006
---
04/07/06 @ 9:10 pm
- The Reason i was at the mall today when all that happened
04/07/06 @ 8:50 pm
I took the girls to the mall to get there easter picture taken with the bunny and we walked to the disney store and 5 minuites after being in the disney store i was paying for my stuff and another disney store called telling the cashier that there was a tornado like 3 minuites from us maybe not even that it was a half mile away, right after that the sirens go off and as we walk into JCPenny the intercom comes on and says we are under a weather emergency everyone report to the first floor swimwear department until further notice, by this time my cell phone was saying emergency only and no calls would go out so i had to sit with me my gma and the girls with a ton of other people for like 15 minuites in the now becoming heated area that we were designated to go to, i finally got a signal and the alarms started going off again but the guy came on the intercom and said that it was not an imminent danger and to go on about our shopping so me and my gma left releived to get outta there but the storms are horrible here, i always worry bc i have a huge tree in my backyard its like the hugest in the area and im always worried that its gonna get hit by lightening or something. Anyways at the end of the day we were on our way home and saw this ....



Tuesday, April 4th, 2006
---
04/04/06 @ 3:20 am